A huge thank you to our sponsors:


TNT Equine Now Offers CareCredit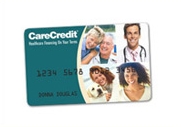 We are all feeling the pinch of the current trends in the economy. While we strive to budget for our equine companions and to provide them with the best care possible TNT Equine knows that emergencies can and do happen. In order to help make those emergencies a little less stressful, TNT Equine is now offering CareCredit as an alternative form of payment.
Many of you may be familiar with CareCredit for your small animals. For those of you who are not, CareCredit is a personal line of credit for healthcare treatments and procedures for your entire family, including your pets. It works like a credit card but it has two advantages. It can only be used for healthcare services and you can get No Interest financing every time you use it. Simply pay your minimum monthly payment and pay off the entire balance by the end of your promotional period and you pay No Interest. If you need more time to pay for your procedure, you can take advantage of our extended payment plans with low, fixed interest rates. For more details you can visit their website at www.carecredit.com. TNT Equine is happy to offer this option to make sure that you can choose the best care for your horse.
Click the Care Credit button to apply!

TNT Equine News & Job Opportunities
TNT Equine is currently looking to fill the following volunteer positions:
Student Externships
Animal science/ equine management majors are invited to participate in an externship at TNT Equine. You will have the opportunity to learn from some of the areas finest doctors and see a variety of cases. Candidates will be able to accompany doctors to farm calls as well as participate in cases in the clinic. Externships can be set up as one week rotations or it may be structured to accommodate local students on a one day per week ongoing basis.
Foal Watch Team
Members of Foal Watch team should have a strong interest in reproductive cases and will be responsible for clear and concise observations of mares ready to foal. Your assistance/participation in the foaling and the immediate needs of the foal after birth will be determined by the on call doctors and may prove invaluable in future equine employment.
Please send resume, cover letter and 3 references to:
Practice Manager
TNT Equine
143 Randall Rd.
North Berwick, ME 03906
or you may email your information to: [email protected]