Equine Reproduction
TNT Equine is pleased to offer a full suite of equine reproduction services at our state-of-the-art facility.
Stallion Services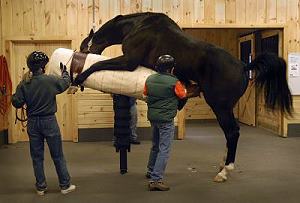 Cooled Semen
TNT offers stallion collections 5 days a week at our facility in North Berwick, Maine. Our onsite tease mares alleviates both the need and worry of timing one at home. We can process your stallionís semen, package and ship it directly from our lab to your clients.
Frozen Semen
Our lab is fully equipped with all the latest technology to properly freeze and store your stallionís semen. An initial test freeze is required to analyze the most effective freezing medium for your stallionís semen. Additional collections will be frozen based on the quality of the frozen semen determined by the test freeze. Stallion owners can choose a pre-determined amount of breedings they would like to store or they can determine on an "as we go" basis.
Phantom Training
For young stallions, it doesnít all come naturally! Our phantom training program is set up to teach your stallion to collect from a "phantom mare". Most breeders find this more effective and safer than the traditional method of collecting off a mare.
Mare Services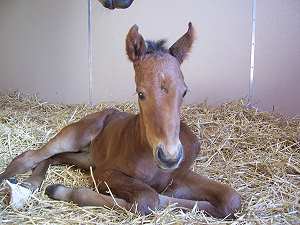 Artificial Insemination
Insemination with either cooled or frozen semen is an investment of both time and money for their owners. We carefully monitor each mare to track their follicular growth and determine the most effective time for insemination. Mares being bred with frozen semen require more frequent ultrasounds to optimize timing as the frozen semenís "life" is much shorter than that of cooled semen. Hormone therapy is also utilized when needed to help achieve a pregnancy.
Reproductive Exams & Diagnosis
Many stallion owners require some form of a reproduction exam as condition of their stallion contract. We offer reproduction soundness exams, cultures, biopsies, and other diagnostics to determine if there are any issues that would hinder or prevent pregnancy prior to breeding saving both the mare and stallion owner time and money.
Embryo Transfer
Embryo transfer has become an important reproductive tool that many breeders choose to utilize in their programs. Some of the most common reasons to choose Embryo transfer are: (1) to produce foals from mares involved in competitions, showing, racing or some other activity
(2) to obtain multiple foals from top-producing mares
(3) to produce foals from mares with problems that may prevent a successful pregnancy or maintenance of said pregnancy. Our reproductive team can recover an embryo from your mare and ship it to the transfer facility of your choice.
Foal Watch
Our foaling stalls are equipped with a camera which can be monitored in our lab 24 hours a day. Though most foalings proceed with little or no complications, itís nice to have the added comfort of the hospital for back-up. If any critical concerns arise, we can treat your mare and foal immediately.