Introducing EquiHealth
View Your Horse's Medical Records - Online
Request appointments, refill medications, or ask general questions.
24/7 access to the medical records needed for traveling, entering competitions,
or in an emergency
Access valuable health information, including videos and articles
Explore interactive education features
It's free and easy to sign up. Use the Health Portal Login on the left to begin.
Enter your email address and select "first-time login"
Check your inbox for an activation email
Click the link in your email and complete your registration information
Once registered, return to the login screen to sign in to the system securely.
Access Equine Health Videos & Articles
Videos include high-definition footage and animations to explain common and more complex health issues. The program below is just one example of the health topics covered.
Videos are 4 to 6 minutes long and available to you at no charge.
A searchable library of health articles is also available for you to search, download, and print at your leisure.
Interactive Horse – Owner Education
EquiHealth provides an "interactive horse" to help you explore equine anatomy. Equine body systems, illustrations, and in-depth diagrams help you learn more about your horse's health.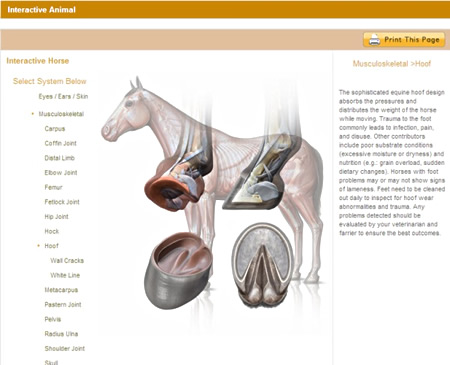 Access these educational resources and more by enrolling in EquiHealth.

Click " Health Portal Login" on the left to begin.